A few of you have reached out and asked me what equipment I use to DJ. My DJ equipment has evolved over the years. I went from using a simple mixer to turntables. Eventually, I transitioned to a DJ controller that allows me to get creative with the vibes I want. Without further ado, check out the gadgets and gizmos I use during my DJ gigs and practice sessions.
Pioneer DDJ-SR2 Controller
I got to highlight this one first: The DDJ-SR2 from Pioneer DJ. This 2-channel controller has everything I need to make my gigs the best they can be. The controller itself is lightweight and simple plug-and-play via USB or AC power cord.  Several features can be customized to fit your style, from the jog wheels' sensitivity to the pitch n' time controls for use with Serato DJ. The multi-colored performance pads are my favorite since they can be switched from hot cues to three other music settings: slicer, sampler, and roll. I also love the touch strip for needle search. It makes it easier for me to locate the part of the track I want to mix or cue. XLR, booth, and master outputs in the back allow diverse ways of monitoring.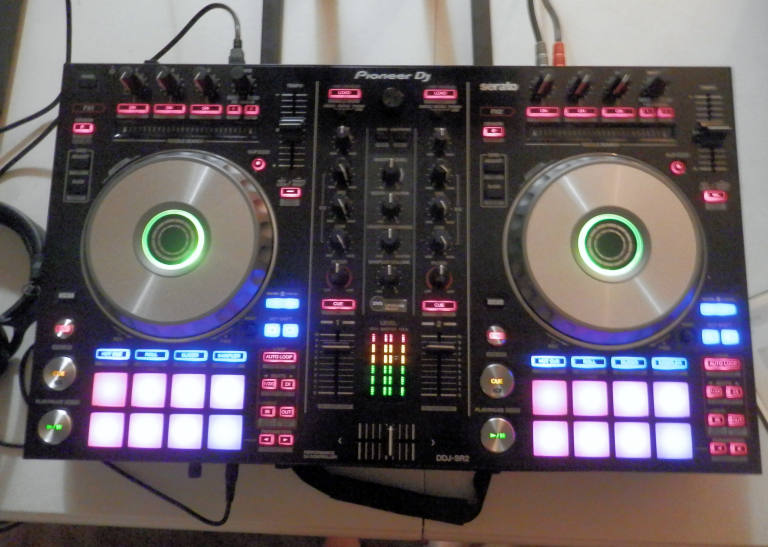 When I first started DJing, I was using Virtual DJ. It's a good software and got me through many gigs, but the moment I tried Serato DJ, I made the switch in an instant. Everything from the interface to the file analysis felt right. This software is used by most DJs and new features are added every few months. It works perfectly alongside the DDJ-SR2 and other compatible controllers and turntables. When I am not mixing music, I update my music library and learn about anything new Serato has at the moment to continue pushing my creativity. Many DJ's use Apple MacBooks, but PCs have worked fine for me. I currently use the Dell Inspirion13 7000. 
Audio-Technica Headphones
 Besides my laptop and controller, the other piece of gear I never leave home without is my headphones. Finding the right pair of headphones is usually a mission for me because not only do I need the right comfort and fit, but the frequency ranges are also important to me. A true audiophile will tell you NOT ALL HEADPHONES ARE BUILT THE SAME. I love the sound that comes from my Audio-Technica MTH-M20X headphones. The adjustable band makes it easy for me to customize the size for my small head and the left cup swivels so I can pay attention to the environment around me while mixing music. The headphones come with a ¾ inch adapter and a carrying pouch.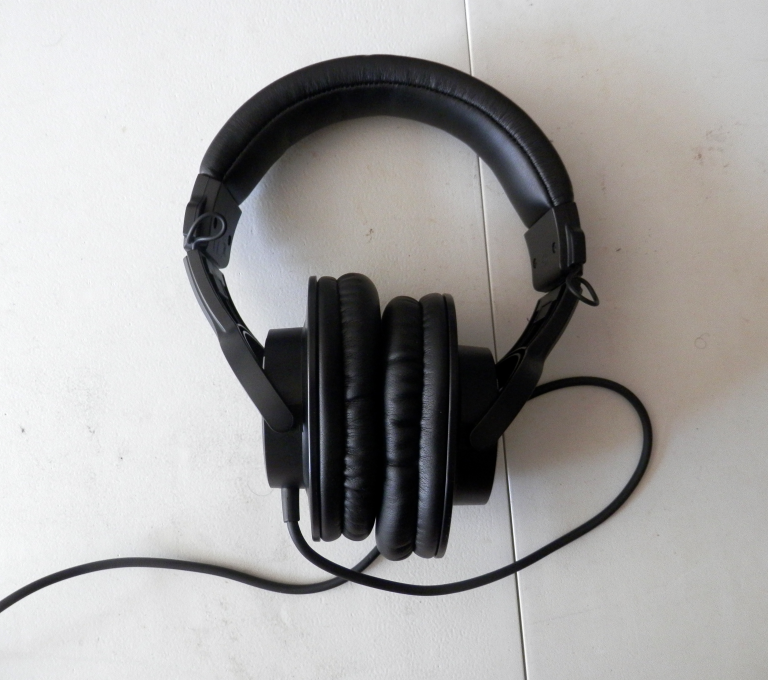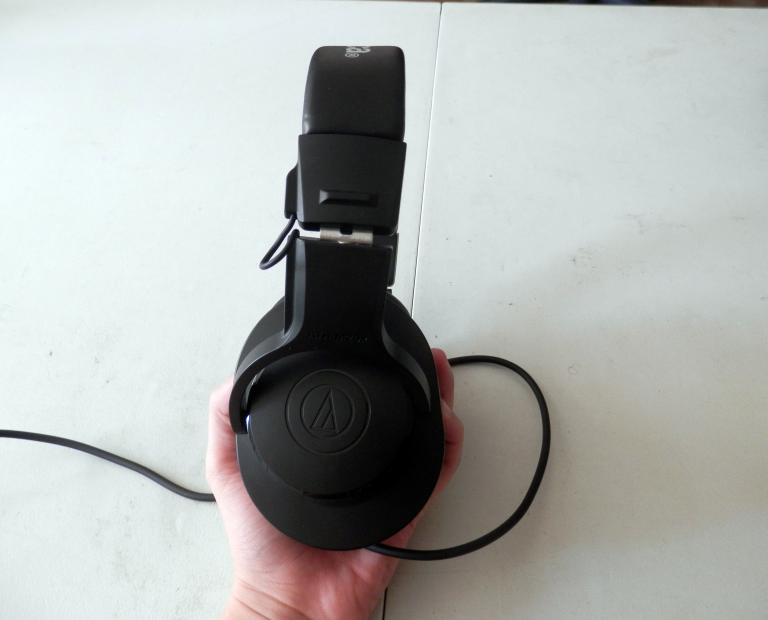 Let me make this very clear: these are studio monitors, not speakers meant for gigs. My speakers blew out a while ago and I am in search of some new ones. The KRK Rockit6 monitors got my attention when I used to work at the music studio at Hostos Community College. The pair I own is an older version and are great for when I am working on my DJ mixing techniques, and when applicable, recording sessions. Low and high-frequency adjustments can be made using the knobs on the back along with the volume control. TRS, RCA, and XLR inputs make it easy to connect to different interfaces and mixers. The monitors are very durable and I have not complaints about the overall sound quality I get from them.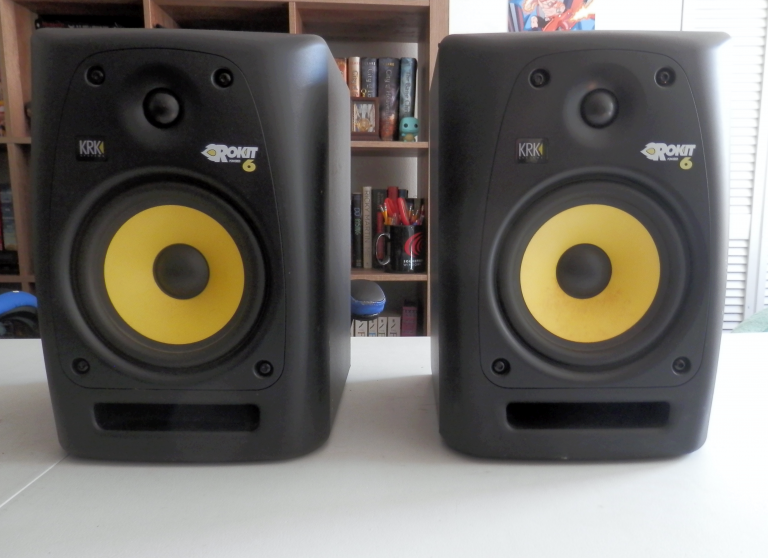 When handling equipment for gigs, your hands need to be protected. I never really thought of this until a folding table collapsed on me one day. Thankfully no significant damage was done to my hand, but I was sore for days. Gig Gloves were just what I needed to get the job done. The leather padding keeps me from injuring myself while setting up or breaking down my space and trust me, I am clumsy! The gloves are touch-screen friendly and accessibility is available to fingertips. I recommend these for anyone that deals with heavy equipment.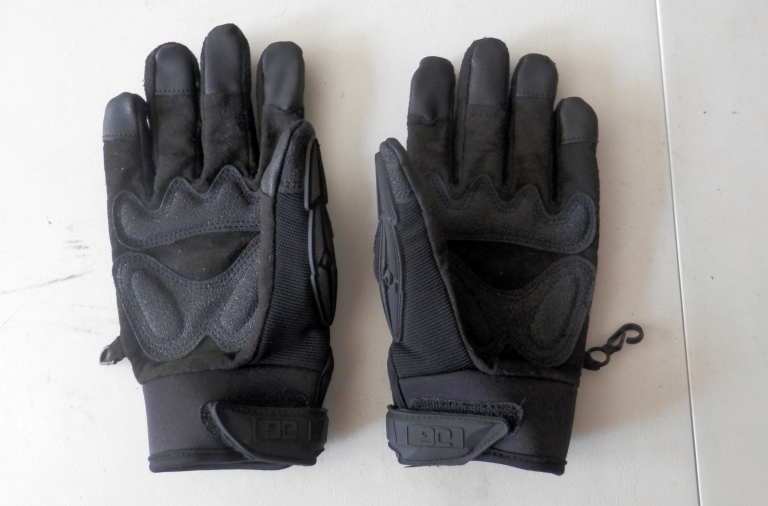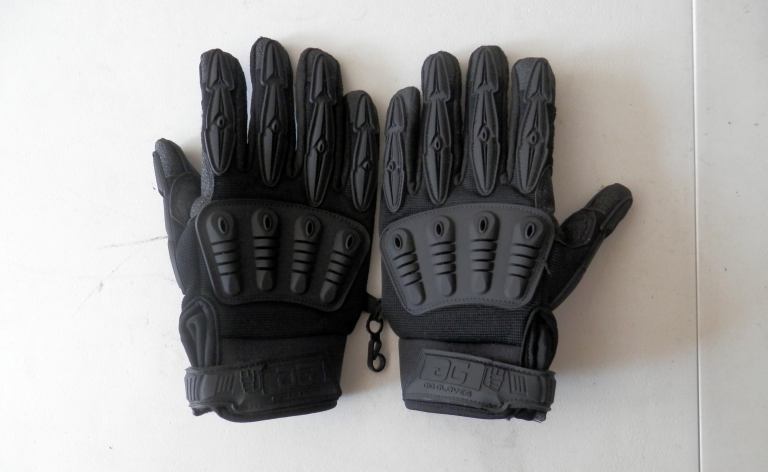 I need something to carry all my tools in, so I ordered this laptop bag from Amazon. The straps don't dig into my shoulders from the weight of everything and there are plenty of pockets for keeping things organized. My laptop, stand, headphones, cables, gloves, and personal items are packed and ready to go.
I need to be prepared for any situation with a gig, and having different types of cable on me is a must. The main ones I pack with me are XLR, Aux, and RCA. Depending on the place, I'll sometimes bring an extension cord and a small power strip. Extra ¾ inch adapters for my headphones are also included in my tools.
Mp3 Player or Other Music Source
There are moments when I don't have everything under control. I had moments where my laptop froze up in the middle of a set or part of the equipment at the venue shut down. It can be an anxiety-inducing moment, but one thing I don't allow is dead air. I bring an Mp3 player and plug in the aux cord to the monitors to continue the momentum until the issue is resolved. I'll even pair my phone if there are Bluetooth speakers. Yeah, people have noticed when technical errors occur, but having the Mp3 player on hand has helped me bring some of the vibes back in a pinch.
So, there you have it. I shared what is in my DJing arsenal. I plan to buy a new wireless microphone and a pair of speakers soonTo the other DJs out there, is there anything you cannot leave for a gig without? Let me know. Everyone else, feel free to ask me any other questions. I am more than happy to answer them. Happy listening!
Photos: Rosa Elena 
Last Updated: February 16, 2023