BRONX, NY- Imagine a child in your life enjoying a book they borrowed from the library so much that they want their own copy. You want to buy this child the book, but there is a major problem: all the bookstores are far away! This is a problem many kids face in The Bronx.
Bookstores have disappeared over the years, making owning a personal library a thing of the past. Most kids travel into Manhattan to purchase a book for themselves. A librarian from the New York Public Library at the Highbridge branch agreed that the lack of bookstores in the borough has been affecting the children in the neighborhood.
"I see children leave with glum faces when they return a book they really enjoyed." she says. "Sometimes they borrow it again. It's a shame they have to travel far to buy their own books."
The closest bookstore for many Bronx residents is the Barnes & Noble at Bay Plaza. The company's media relations representative did not respond if Barnes & Noble would open more locations in The Bronx, but had this to say about the Bay Plaza location, "Each Barnes & Noble bookstore is a community center in the area that it serves, and the Bay Plaza store is a great example of this. Our booksellers in the Bronx are very involved with the schools, libraries, and other literacy organizations in their community."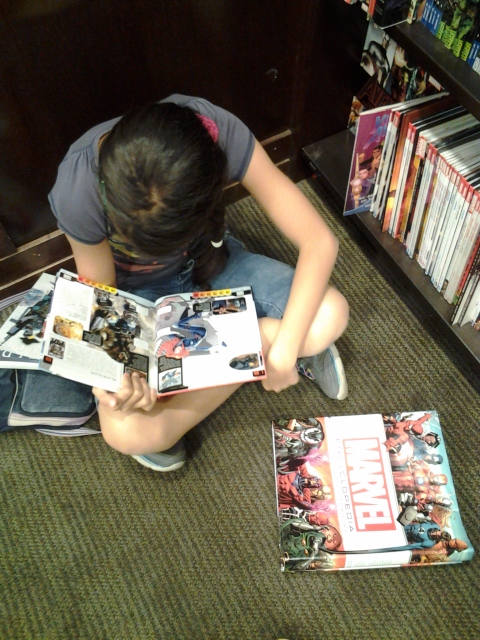 Media relations from Barnes & Noble also explained how children benefit from their stores through story times, "A key element of our store programming, Story Times are a Barnes & Noble tradition that helps promote reading and literacy and brings thousands of families together for laughs and smiles."
An observation was made by the NYPL librarian. Children are reading more often from their parent's tablets and e-readers. Is the digital format to blame for the decline of bookstores? According to Laptopmag.com the Amazon Kindle is the best e-reader (Barnes & Noble Nook came in second). An Amazon sales representative reports that the sales of e-books have declined 4.8% since November of last year.
"Hardcover books are selling a lot faster than e-books," he said. "Publishers and authors find it cheaper to have their books in a digital format, but people still want hardcovers. I don't believe e-books are completely to blame for the decline of bookstores."
The Amazon representative also explained that customers have bought hardcovers and paperbacks through Amazon. If online shopping beats a trip to the bookstore, isn't that why brick-and-mortar shops are closing their doors? Even the New York Public Library is lending out e-books to those who have compatible devices, and many schools are using the Kindle to make reading more interactive for students.
To see the preference of consumers, I asked on Facebook "Do you prefer reading from an e-book reader or a paperback/ hardcover book?" Some of the comments show how people enjoy reading their novels:
"I enjoy the e-reader because I believe to a certain extent, it can be eco-friendly, and I am able to download a book from the comfort of my home without making a trip to the bookstore or the library. While commuting, it's easier to 'flip' the pages of my e-reader with the touch of a fingertip." –Sinai Cuahanteco
"Paperback all the way! I personally don't like staring at a screen for too long. Books are so much better!" –Mileisa Chaparro
"I can understand paperback for the sake of the whole idea that it's a tactile sensation, and you can feel how far into a book you are, as well as the fact that a paperback will never run out of battery… but I gotta say I appreciate my tablet. I'm able to buy books from virtually anywhere. It's compact. I can take it anywhere and I don't have to worry about losing my page with the bookmark tool. I can take notes and define words I may not understand. And I highlight certain sections for later." –Natalia Medina
"I rather a paperback/ hardcover. I'm more into the traditional stuff. I just can't seem to grasp reading extensively electronically, the words seem to blur and play games with my eyes after a few." –Lissette Padilla.
"I love paperback! I love to touch and smell a new book also writing in it and having it on my shelf is even greater. An e-book doesn't provide the same comfort…probably because of the era we were raised. Going to the library or bookstore was the only way to get books when we were little." –Jessica Lopez
Comfort, time efficiency, and portability are what makes e-books convenient for consumers, yet on social media after the question was posted most of those who commented prefer paperbacks and hardcovers. Yes, a child can still read a book from a screen, and there are apps to bring the story to life on tablets, but what do they get out of it? The book will only be a file on the tablet or e-reader. A physical book they can keep forever.
A decade ago, Scholastic used to have book fairs in public schools, and some books were given away for free. Now those book fairs rarely happen. Most parents want their children to know about the past. For some people CDs have been replaced by Mp3s. Is the e-book going to replace physical books forever?
One thing is certain, children need hardcovers and paperbacks. You don't have to recharge one of those to make it work or worry about a child dropping the tablet. Bookstores need more locations in the Bronx, so families don't need to travel far to enjoy reading together.
Note: The Barnes & Noble Bay Plaza location closed in 2016. The Bronx now has the LitBar, a bookstore and wine bar that opened in 2019.
Photo: Rosa Elena Burgos 
Last Updated: September 26, 2021