MADISON SQUARE GARDEN, NEW YORK, NY- Latin rock musician Juanes took over the theater at Madison Square Garden with his Loco de Amor Tour. After reading is autobiography, Chasing the Sun, Gil and I had been eager to see the Colombian rock star live. This was the second time I have seen Juanes in concert. He did not disappoint. In fact, this concert was a lot better than the last one I attended.
The night began with Mexican performer Ximena Saranina as the opening act. She has an indie rock kind of vibe. The band was great. She performed about six songs before having the AV crew set up for Juanes. Tension was building as more people filled up the seats in the theater.
At long last the star of the show gets on the stage. Juanes started off the concert with "Mil Pedazos".
Juanes switched things up to get people more active in the show. He played the first few chords of "La Noche". That woke the crowd up. I got up off my seat to sing and dance along. He transitioned into other songs smoothly like "Yerbatero", "Una Flor", "Loco de Amor", "Me Voy", and "Es Por Ti".
Juanes brought back Ximena Saranina to fill in for Nelly Furtado in "Fotografía". Its beautiful and one of my favorite collaborations from him.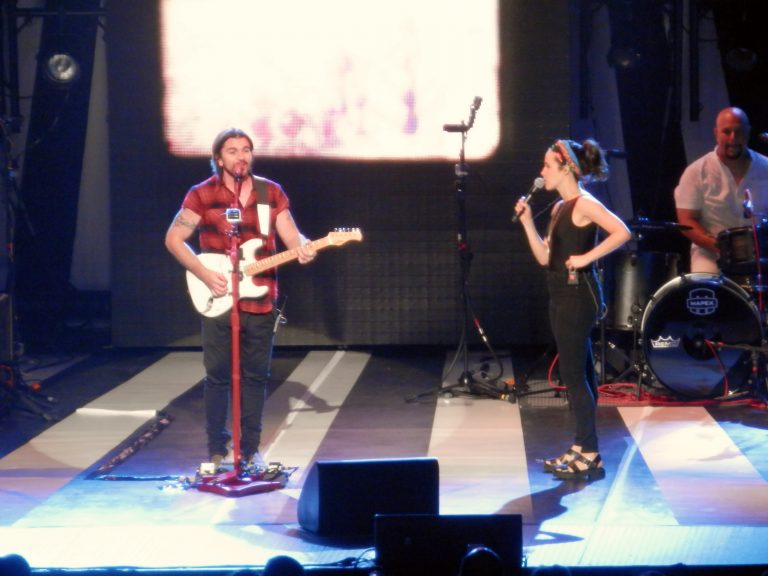 Juanes went into "Juntos" before explaining to the audience the process of creating his albums. He surprised the crowd by performing a song he had been working on called "El Mundo Necesita Amor".  Juanes does a lot of humanitarian work and played for the United Nations the night before. He hopes to inspire people to make a positive difference in the world and shares his message through music.
The DJ in me became emotional when Juanes brought out as a special guest French DJ/ producer Cedric Gervais. Cedric played an EDM version of Lana del Rey's "Summertime Sadness" before collaborating with Juanes. I never thought Juanes would ever do EDM. It was incredible!
There was a short intermission before Juanes returned to the stage wearing a white button down "I love NY" shirt. The musician explained he cares deeply about New York City. The tempo of the show changed after that. He began the second half with a cover of Juan Gabriel's "Querida". My mind was blown away when he performed a cover to Joe Arroyo's salsa classic "Rebelión". He arranged the song into the Latin Rock genre.
Juanes continued to rock out with his biggest hits: "Nada Valgo Sin Tu Amor", "Volverte A Ver", "Gotas de Agua Dulce", "Me Enamora", "La Camisa Negra", and "A Dios Le Pido". With every song he shredded his guitar. You can tell the instrument is so much a part of him as he jumped and danced around on stage. The feedback from the audience influenced his guitar playing.
To express his gratitude, Juanes introduced members of his band, who are from different parts of the world. Majority of the audience is from Colombia, but there were people from various nationalities. It is inspiring how music can break barriers and unite people. Juanes has done this in a variety of ways, and for that I admire him.
Juanes and his band took a bow and he thanked everyone for attending. He was about to walk off the stage when the audience chanted "otra, otra!" Juanes smiled to his band members and they nodded. They grabbed their instruments one last time and performed "Mala Gente". I can honestly say this concert beat the PARCE tour for me. He was so diverse with his music: Latin Rock, Salsa, EDM, and Reggae. Gracias Juanes por una noche inolvidable!
Photos: Rosa Elena Burgos and Gilberto E. Burgos 
Videos: Rosa Elena Burgos
Last Updated: October 28, 2021