NEW YORK BOTANICAL GARDEN, BRONX, NY- The New York Botanical Garden recently hosted an exciting exhibit: Frida Kahlo: Art. Garden. Life. Kahlo's work was surrounded by various plants inspired by her garden at La Casa Azul in Mexico. All over the garden you can sense Frida and her culture.
It was a cold day for October. I put on my coat for the first time since March along with a pair of leg warmers. Gil joined me on this adventure. Many people were bundled up, yet the cold was not stopping them from seeing Frida's work. A gorgeous banner was displayed outside the Botanical Garden Gallery featuring one of Frida's self-portraits. A small screen played a video describing Frida's life. After climbing four flights of stairs, we arrived at the art gallery.
The walls were decorated with information on Frida, her husband Diego Rivera (who was a muralist and 20 years her senior), La Casa Azul, Frida's love for nature, and her influence in Mexico. In a small room hanged 14 pieces of her artwork. These included sketches, drawings, oil paintings, and a self-portrait. The self-portrait was my favorite piece. The color palate was beautiful, and the nature elements amazed me.
Down a flight of stairs was a piece created by a sculpture artist. He created "The Two Fridas" into a 3D masterpiece using tissue paper, wires, and paint. The two hearts connecting gave me a sense that Frida often had conflicts with her artistic self and her true self.  Next to the sculptures were glass cases full of the herbs and plants found in Mexico. On the ground floor was a photographic map of all the landmarks and locations that Frida loved or are in honor of her in Mexico City.
A short walk from the Botanical Garden gallery was the conservatory. Here, we got to experience a part of La Casa Azul. The air was warm, and I appreciated it due to the bitter cold wind. Plants were set up to represent the flowers Frida would put in her hair, her cactus fence around the house, and the love she had for plants. There were also agricultural plants from many parts of Latin America. We visited the pond where colored koi fish swam round. At least in this area photography was allowed.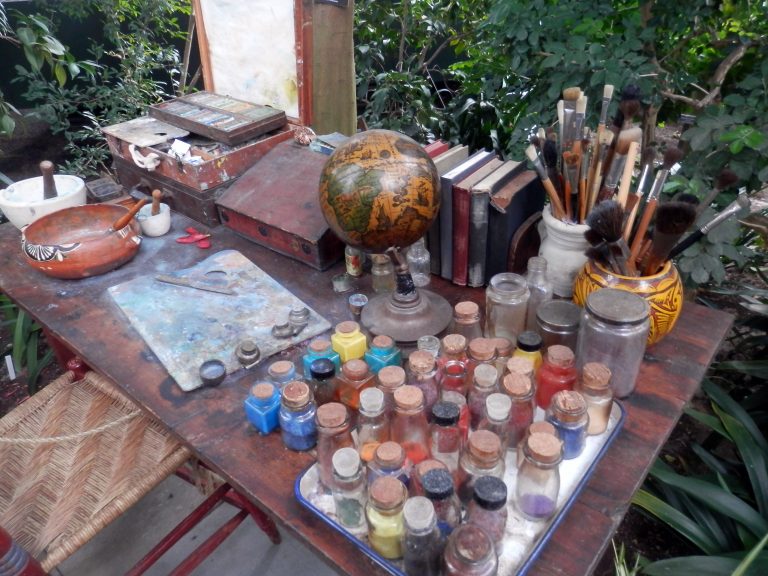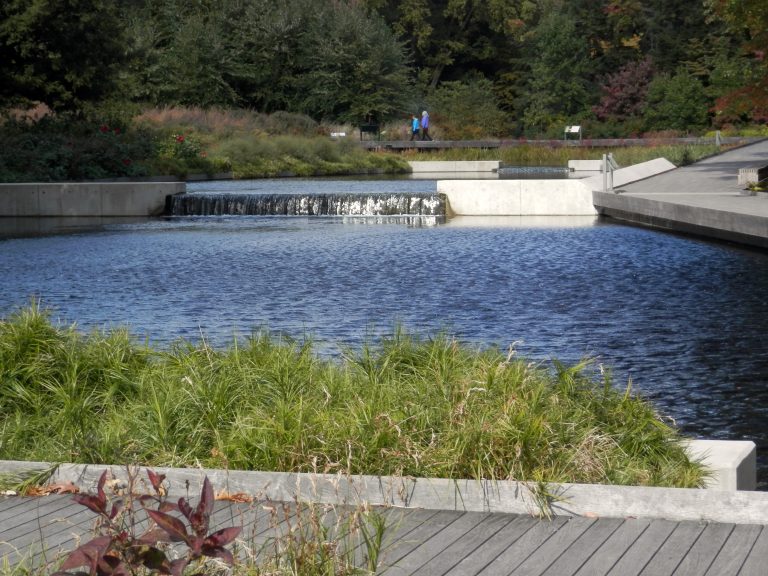 After seeing Frida's work, Gil and I took a hike along the trail within the Botanical Garden. The waterfall is a site I love to visit when I come to the garden, so we stopped by there before taking a tram ride back to the main gate. The tram ride was chilly, but it saved us some time.
I enjoyed this exhibit since it was the first time Gil and I got to see Frida's work up close. Although she suffered from poor health, her work is inspirational. We were lucky to see it in its final weekend.
Photos: Rosa Elena Burgos
Last Updated: December 13, 2021