BRONX, NY- A week ago at Best Buy, I was looking through the now diminished music section of music CDs. There was not a lot of variety, but I did consider purchasing the new Juanes and Luis Fonsi albums. While debating about buying them or not, I remembered something my little sister had asked me the night before:
"Why do you still buys CDs?"
This came out as an odd question to me. I have been buying CDs since I had an allowance. Family members and friends have given me music CDs as holiday or birthday gifts. My music collection has grown over time. Yes, I still buy CDs and there are a number of reasons why I do so.
We are living in an era where everything is going digital. Even the simplest of pleasures like reading a book (ebook) or having a conversation (texting) has changed. Although I admit to using my media player for music entertainment on the go, I still prefer to buy CDs. I am really proud of how much my collection has grown and how diverse it is. There is also the calming fact that if I lose all my music files, I can recover most of it through my CD collection.
Then there are album signings, which I think is an amazing way for artists to meet their fans. I have fun at these events and have several CDs signed by popular Latin artists (Prince Royce, Daddy Yankee, Aventura, Tito "El Bambino", Wisin y Yandel, Lin-Manuel Miranda). There are also albums of live concerts I have attended. Live albums allow me t o experience the shows I could go to and I put it on blast.
For me to buy a CD, it has to really capture my attention. I call this "investing in an artist" because I am putting in money for work they create. If I hear good things about an album, then I will listen to its contents. I also love looking through the album cover booklets and seeing who else was involved in the production and engineering of the project.
Now let's get into the reasoning from the perspective of the music industry. Has anyone noticed how local music stores are closing down? Or that the music section in big chain retail stores like Target, Best Buy, and Wal-Mart are slowly getting smaller? The drop in CD sales has affected the music industry terribly. Is music streaming and downloading to blame for this decline?
Forbes magazine states that "We're in the era of the single song, as albums mean less and less to today's consumers. It's a different time where the attention span is much shorter, multitasking abounds, and there are more media choices than ever, which are less than ideal conditions for a medium that requires a long time commitment." Although Forbes indicates that downloading singles from sources like iTunes are the culprits of the industry being in crisis, the same article states that digital sales have plummeted in the past year. Downloading and streaming is the reason local music stores have run out of business. The digital market has grown.
According to the chart below provided by Forbes, the only mediums in music sales that have increased are music streaming and surprisingly vinyl.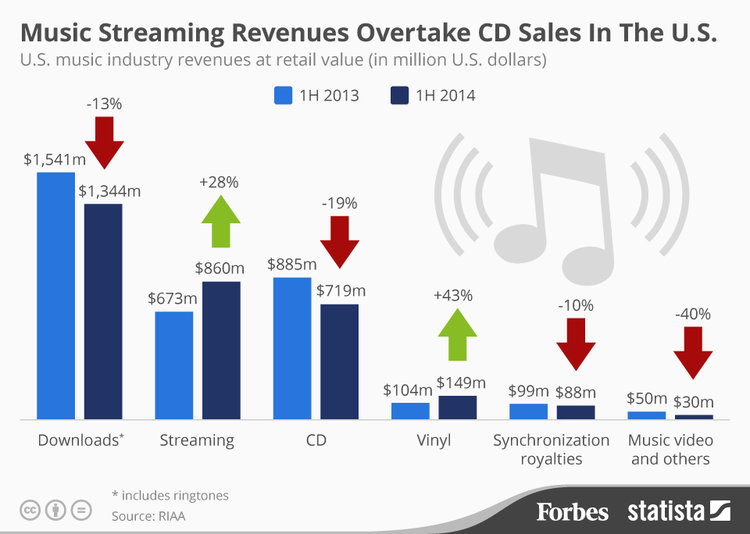 Vinyl has made a slight comeback ever since Record Store Day came into existence in 2008. According to Billboard.com "vinyl buyers are heavy music consumers across all formats. It also highlighted that consumers wanted a special experience and bonus material, especially for their favorite artists…" I have noticed artists like Justin Timberlake and Fall Out Boy release vinyl editions of their albums, so who wouldn't be intrigued by vinyl making a comeback? As a music DJ this is really exciting for me, even if it is not the biggest seller for the music industry.
I decided to take my sister's question further on social media to see other people had to say about buying CDs:
"I still buy CDs because my car has a CD player. I don't want to use my phone for everything. I have my Bluetooth hooked up in the car for example to my phone so when I'm driving I can talk hands free you can't do both and play music. Playing music on my phone kills my battery and takes up space. I like CDs because they are something I can actually hold and view the album art work etc. I don't know I guess it's the fact that I can hold it in my hand still that makes me happy. Too many things are digital these days and I just appreciate CDs".- Ky Oeasha Thomas
"I buy CDs once in a while because I have a CD player at home but if I do I just end up synchronizing the music to my phone. CDs are almost becoming obsolete because of the simplicity of downloading music."- Jessica Lopez
 "If the artist is one of my favorites I will buy a hard copy. I had an ipod and lost a lot of music. I like the artwork that goes into a great album cover. I still have over 500+ CDs."- Lisa Loo Lee Li
"In recent purchases I've bought full albums via Mp3. I wouldn't mind buying a CD if it were the only way to get the music, but Mp3's are more convenient for immediate usage. I'd still buy CDs though, but Mp3's make it easier to get the exact song(s) you want, without having to pay for several other songs you don't necessarily want."- Marie DH
"I only buy CDs of artist I really like other than that I buy the Mp3 version. I buy the CD because I want to enjoy the music without using my phone and I want to have it even if I my electronics mess up and lose the music for whatever reason."- Jennifer McCall
"I don't buy CDs anymore. CDs take up a lot of space in my house which is why I prefer Mp3, also there aren't a lot of CDs in which I like every song. They can get scratched and that sucks. If I really like the album and it's not available on Mp3 I could cave and buy a CD. I used to carry around at least 4 CDs. Not easy when my mood affects what I listen to."- Laura Vega
"Not CDs, but records. I like the idea of having something physical. If I really enjoy an album, I feel it deserves some space."- Sean Engeldrum
There are mixed point of views on buying CDs, but the majority still prefer to buy them depending on their tastes and if it is worthy to be on their shelves. I feel like CDs will someday make a comeback and I will continue to buy them as long as they are in existence.
Sources: 
Banner Image: Rosa Elena Burgos
Last Updated: October 11, 2021