BRONX, NY- Sunday night Madison Square Garden hosted the biggest night for the recording industry. The Grammys celebrate musicians, composers, engineers, and producers. Sure, we can talk about Bruno Mars taking home six Grammys or the latest fashion trends, but the real winners to me were the social causes. I cannot tell you how proud I am that artists used this platform to speak up on something they believe in.
KENDRICK LAMAR: POVERTY, POLICE BRUTALITY, AND BLACK LIVES MATTER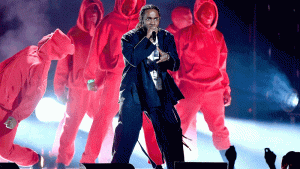 Hip-hop artist Kendrick Lamar had plenty to say with his opening performance. During "XXX" he hit the themes of poverty and protests. An American flag presented itself on the screens before soldiers appeared marching on stage in their camouflage uniforms. Kendrick made it clear the performance was a satirical piece on the corrupt justice system against people of color. Bono and The Edge from U2 briefly joined Kendrick before the lights dimmed. The screens displayed in white text "This is a satire by Kendrick Lamar" faded out before comedian Dave Chapelle added his brief dialogue to the show. Kendrick rewrote his own lyrics to avoid CBS censoring his message. The dancers returned wearing red hoodies. While Kendrick spit his rapid-fire lyrics, the dancers were all "shot down" one by one. If there was an award for a subtle political masterpiece, Kendrick would be the winner.
LUIS FONSI AND DADDY YANKEE: PUERTO RICO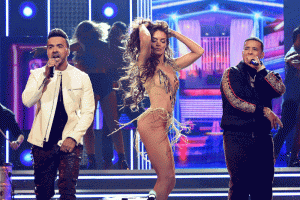 By now, most of us are tired of hearing the world phenomenon "Despacito," no matter which version it is. This performance was important to Latin Pop star Luis Fonsi and Reggaeton sensation Daddy Yankee. When you watch the video and combine the urban fusion of the instrumental, you can't miss that the song is dedicated to the island of Puerto Rico. Both artists have contributed to relief efforts after hurricane Maria caused destruction. To them, being able to perform their hit at the Grammys was an honor to the island and all Latinx countries. Former Miss Universe-Puerto Rico Zuelyka Rivera danced alongside Daddy Yankee and Luis Fonsi, while the traditional instruments of the quatro and the tambores played in the background. Life doesn't get more Boricua than that.
PINK: AMERICAN SIGN LANGUAGE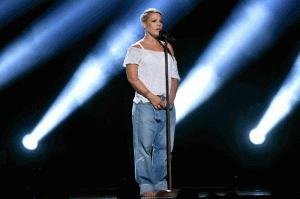 I had my conflicts with Pink on this one. On a positive note, she had good intentions on having an American Sign Language interpreter join her for "Wild Hearts Can't Be Broken." Representation matters and to raise awareness for Deaf culture and the importance of learning ASL is great. Although Pink is known for her epic performances, there was a huge problem with this simple yet elegant piece. Why was the interpreter off to the side and only viewed at a certain camera angle? Why not have her front and center beside Pink? I give her credit for incorporating ASL to her performance, just wish it had been executed better.
KESHA: #TIMESUP AND #METOO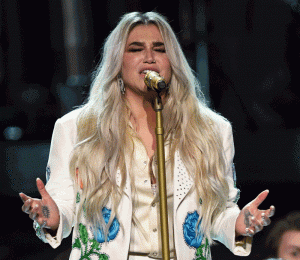 "We come in peace, but we mean business." Janelle Monae gave a powerful speech for the #TimesUp and #MeToo movement when introducing Kesha. This was Kesha's first performance at an award show since speaking up about her sexual abuse at the hands of producer Dr. Luke back in 2014. Cyndi Lauper, Camila Cabello, Andra Day, Julia Michaels, and Bebe Rexha joined Kesha in solidarity as a backup choir. Kesha gave it her all, fighting back tears as she performed "Praying." Every day, women are subjected to sexual abuse in the workplace, many not able to speak up due to fear and retaliation. Enough is enough! Kesha is now using her powerful voice to inspire other women to use theirs in the fight against sexual assault.
CAMILA CABELLO: DREAMERS/ DACA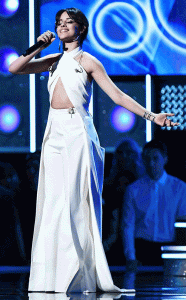 "I'm a proud Cuban-Mexican immigrant born in Eastern Havana standing in front of you on the Grammy stage in New York City, and all I know is just like dreams, these kids can't be forgotten and are worth fighting for." Former Fifth Harmony member Camila Cabello stood her ground for the Dreamers fighting to keep DACA. Admitting her status, Cabello became the example immigrants needed to continue the battle for their dreams. Our current government wants all those students who seek a better education and life deported. Never give up.
LOGIC, ALESSIA CARA, AND KHALID: SUICIDE AWARENESS
1-800-273-8255. Logic uses the suicide prevention hotline number as the title of his groundbreaking hit. Logic followed with his performance after the Grammys paid tribute to those we lost during the year. It especially hit home for the families of Chris Cornell and Chester Bennington, who both committed suicide. Logic has become an ambassador for suicide prevention since recording the song, and was soon joined on stage by Alessia Cara, Khalid, and survivors of mental illness. Logic later used his platform to motivate others to aid in the fight against mental illness and other human rights.
If the Grammys have proven anything this year it is that music can be used as a platform to motivate others and raise awareness. There will always be those who try to push you down but stand firm. Use your voice to make a difference, no matter what the cause.
Last Updated: January 6, 2022