BRONX, NY- An article piqued my interest the other day while I was browsing through Billboard.com. It discussed the tribute done for merengue singer, Olga Tañon, at Premios Lo Nuestro in February. She deserved both the award and tribute along with Gloria and Emilio Estefan, who were also honored that night for their contribution to the Latin music industry. Latinas have made their mark in music as well. While mainstream has Adele, Beyonce, Rihanna, and the late Whitney Houston, Latin music has their queens who strive every day to not only entertain their fans but make a difference (the list is in no particular order).
Love her or hate her, this diva from the Bronx is still doing her thing in music. Lopez began her career as an actress and booked small gigs, including being a fly girl for In Living Color. Her big break came when she got the role of Selena in the biopic. After the success of Selena, she began her music career by singing in English first, topping the Billboard charts. In 2007, she released her first Spanish language album. Since then, she has sold more than a million in albums and singles, runs various J.Lo brands in retail, continues acting, and produces both television shows and films. In other words, she does it all.
Selena Quintanilla, known as the Queen of Tejano music, started breaking barriers for the genre when she and her sibling formed Selena Y Los Dinos under her father's management. As her career sky-rocketed with hits like "Como La Flor", "Amor Prohibido", and "Bidi Bidi Bom Bom", she began designing her own clothing line. Many criticized her for being a sex icon due to her performance outfits, yet she became a positive influence for young girls and gave her time to social causes. Selena also got small acting roles in telenovelas. She was killed by the manager of her boutique in 1995. Billboard magazine names her the most influential Latina woman in history.
Laura Pausini is one of the most recognized pop singers in not just Europe, but Latin America. The Italian performer began her career when she won a singing competition with her single "La Soledad". Since then she has had international success with her romantic ballads and majestic voice. She speaks five different languages (Italian, English, Spanish, Portuguese, and French), and translated her albums to reach more fans. Pausini coaches a variety of contestants for music competitions and has hosted several award shows. She has collaborated with great artists like Andrea Bocelli, Miguel Bose, Marc Anthony, and Alejandro Sanz.
Jenni Rivera was well respected in Mexico and Latin America. La Diva de la Banda brought to life her performances with beautiful dresses, a powerful voice, and lyrics of female empowerment. Rivera also had her own reality show, published various books, and ran a fashion line. Jenni Rivera enjoyed performing for the Virgin Mary on the feast of Our Lady of Guadalupe every year in Mexico. She died in a plane crash in 2012.
Besides Selena, I grew up listening to Olga Tañon. She is one of the few females in the tropical genre that has won more awards than any other performer. Her songs empowered women to not depend on a man when it comes to their independence and inner strength. Tañon was featured in various holiday specials in Puerto Rico. She took a hiatus from music to help her daughter fight a severe illness. She recently received an icon award for her legacy in Latin music.
La Reina del Merengue, Dominican born singer Milly Quezada earned her Latin Grammys during the rise of her career. She began with the group Milly, Jocelyn y Los Vecinos until she began her solo career in 1990. She then moved to Puerto Rico and took over the charts in the Caribbean. Quezada has worked with both salsa and merengue legends, including Olga Tañon. Both women ruled in a male dominated genre.
The lovable Queen of Salsa began her career with the group Sonora Mantacera. The music group traveled to the United States where Celia gained popularity as their lead singer and married trumpet player, Pedro Knight. When Fidel Castro took control of Cuba, she and Pedro could no longer return to their home country. They became U.S. Citizens. Cruz then teamed up with Tito Puente and Johnny Pacheco and found herself joining the Fania All-Stars, a salsa group in New York City. She became the female icon in Latin music with hits like "Quimbara", "La Negra Tiene Tumbao", and "Carnaval". She died of brain cancer in 2003.
Gloria Estefan wears many hats. She is a songwriter, singer, producer, author, and humanitarian. The powerful Cuban began her career with Miami Sound Machine in 1977. Their breakout hit, "Conga", led to a world tour and many billboard chart toppers. Estefan suffered a severe accident in 1990, spending a year in intense physical therapy. She made a strong comeback and has been soaring since. With her husband Emilio Estefan, Gloria has worked with various international performers, produced television and Broadway events, and contributed to relief efforts for countries affected by natural disasters.
Known as the Queen of Reggaeton, Ivy Queen joined music band The Noise in 1995. Tired of the groups violent and sexual content, she went solo in 1996 and decided to write her own songs. La Diva quickly rose to fame with tracks about female empowerment, infidelity, and relationships. She became the face for women in a genre dominated by men, winning various awards and helping in anti- cancer charities. She currently writes music and is acting in The Vagina Monologues.
Although she has been under the spotlight for her drug addiction and scandalous life, Mexican rock star Alejandra Guzmán has made her mark in Latin Music. She broke the barrier for women when she began performing Latin Rock songs. Influenced by the Rolling Stones, Guzmán became the Queen of Latin Rock music. She is now a survivor of her drug addiction and still tells the media off when they label her as a "sex icon". Guzmán also advocates for women suffering from other addictions.
Known as the Madonna of Mexico, Gloria Trevi began her career with the short- lived band Boquitas Pintadas in 1985. She went solo a year later but did not reach fame until she released "Pelo Suelto" in 1991. Trevi enjoyed the Latin punk-rock genre and wrote songs about female empowerment and independence. She was arrested in Brazil in 2000 for alleged kidnapping and corruption of minors. Four years later, her charges were dropped, and she made a comeback in music with pop ballads. Trevi is an ambassador for women who are in prison and tours often with Alejandra Guzmán.
Singer, songwriter, and dancer, Shakira is known as the most influential crossover artist according to Billboard. The Colombian performer sold millions of albums in Latin America before her mainstream album Laundry Service hit music retail. "Whenever, Wherever" became the biggest hit in 2002, followed by "Hips Don't Lie" in 2005. Shakira has collaborated with Beyonce, Rihanna, Alejandro Sanz, Mana, Prince Royce, Maluma, and most recently Nicky Jam. She also founded the charity Pies Descalzos, which helps aid children to have an education in third world countries. Shakira has also been a coach on NBC's The Voice.
Natalia Jiménez was the lead singer of Latin pop band La 5tá Estación. The band won various awards before Jiménez decided to go solo in 2010. Her powerful vocals have led her to collaborate with Ricky Martin, Marc Anthony, Ednita Nazario, Olga Tañon, and Daddy Yankee. "Quedate Con Ella" and "Creo En Mi" have become her greatest hits of female empowerment. She was also a vocal coach and champion for two seasons on Telemundo's La Voz Kids. Jiménez reaches out to kids who are often bullied in school and shares her own experience with them.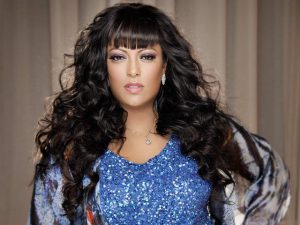 Last, but not least is salsa legend La India. She began singing freestyle in the Bronx at age 16 with TKA. La India then pursued a career in salsa where she gained the nickname La Princesa. She recorded songs with Eddie Palmeri, Tito Puente, Marc Anthony, Gloria Estefan, Juan Gabriel, Charlie Cruz, and Tito Nieves. She has also performed in tribute concerts for Selena and Celia Cruz. La India has become the Latina icon in salsa for empowerment and independence.
Each of these women can motivate anyone through their lyrics and powerful vocals. Take a chance to listen to them and enjoy their different styles.
Last Updated: January 6, 2022