BRONX, NY – The year is 2007. My fifteen-year-old self is in one of the sold-out seats at Madison Square Garden watching a DJ entertain the audience with his music and energy. There were various artists at La Kalle's Block Party Concert that year (Alexis y Fido, Wisin y Yandel, Don Omar), but the ones whom I was transfixed by the most were DJ Kazzanova and DJ Lobo. They lit the spark within my spirit to pursue the DJing path. At that moment I knew my life was about to get interesting.
That night after the concert, I sat in my room and thought about everything I just experienced. It wasn't my first time seeing a DJ work, but it was my first to watch one mix in a concert setting. DJ Kazzanova, DJ Lobo, and Alex Sensation always had me vibing whenever they were broadcast on the radio, but being there live was something else. The energy from the audience was addicting and all I thought about while watching Kazzanova and Lobo blend tracks together was "I want to do that!"
Being raised by a Puerto Rican family in The Bronx gave me a melting pot of music genres to grow up around. Unlike other talented members of my family, I cannot play an instrument to save my life, much less sing. I was dabbling with music production software at the time, but that didn't feel like the right fit for me. As I did more research about DJing techniques and history, my excitement increased. DJing was calling out to me. I loved music already, especially the Latin genres, so why not share that passion with others?
When I told my family I wanted to be a DJ, I got the expected responses:
"Are you sure about that? It's not a stable career."
"Mija, I don't know of any DJs who are women."
"This is just a phase. You'll change your mind eventually."
Those comments motivated me to give DJing my all. My high school guidance counselor told me about an after-school program for girls that was offering free DJ classes on Wednesdays. I immediately enrolled and got a big surprise when I discovered the location was inside a convent! The program did rent a different space at a community center in Parkchester two months later (more details about this awkward experience in the Blev in DJ Culture podcast episode with DJ Reese).
There were about ten girls in the class. The teacher, DJ Reborn, was so dope and started us off by learning about hip-hop and DJ history. She explained all the parts and functions of the equipment: turntables, mixers, speakers, microphones, and some lighting systems. Each week we practiced with the turntable's different transitions, loops, and scratches. I started listening to music differently; locating the beats on 1 and 3, calculating the BPMs (Beats Per Minute), and paying attention to the transitions when my favorite DJs were broadcasting their shows.
I got so much out of those classes for four months. When winter break came, DJ Reborn got an offer to be the opening act for David Guetta's tour. I didn't blame her for taking that opportunity, but it also meant the classes couldn't continue. I kept learning what I could on my own until I arrived at Hostos Community College.
When I started out at Hostos my major was liberal arts. I was still feeling bummed out about not being able to attend the music production program at Long Island University due to financial reasons. Financial aid was a blessing at Hostos, but I wasn't sure if it could offer what I was searching for in music. I am happy to say I was wrong.
I had been promoting myself as a DJ already through word of mouth. I chose my name, Rosa Elena, to keep it simple. My first mixer was a Torque an M-Audio Torque MixLab that I got a BestBuy for $100. Don't ask me what made me get this particular piece of equipment because I can no longer remember. The point is that it got the job done for me to practice. A classmate asked me to DJ a fashion show for one of the school clubs. It was my first gig and I had gone in with the digital mixer and my laptop. Sadly, the speakers the student government provided for the event were faulty and I couldn't figure out what the issue was while troubleshooting. My classmate ran off to find a professor named Rees Shad. Rees figured out the issue quickly and then asked me about my interests in audio. He told me he was starting a digital music program to teach audio engineering and music production. Rees was recruiting students with a big interest in the industry to join him. I knew fate was working its magic for me, so I said "sign me up."
The following semester, I was grouped in with other students in a closet-sized room learning basic recording techniques from Rees. The lectures, demos, and assignments felt intense at times, but I grew to love the program. The closet studio evolved into a full recording space. Eventually, I got a job working in the studio and I interned for Rees for a semester. The audio engineer track was perfect for me since I enjoyed the more technical side of the recording industry. Those skills also allowed me to improve my DJing techniques.
 While taking on more gigs, I instantly bonded with another school DJ: David (DJ D-Lite). David and I decided to collaborate on a Halloween party, which was a big deal on campus. After that gig, we were booked for many more events. The two of us started a radio club on campus and we would mix music in a tiny room. I upgraded the Torque mixer for a Vestax Typhoon and continued using Virtual DJ.  Students would come in to dance or hang out and listen. Rees started calling us The Danger Twins and the name stuck. There were moments David and I were at separate events, but for the most part, we were booked as a set. After graduating from Hostos we continued to DJ gigs together.
Lehman College became my next stop after earning my associate's degree. It was a huge adjustment for me at first. At Hostos, almost everyone knew who I was, but on this bigger campus, I had to work on the self-promo again. There wasn't a digital music program available, so I decided to major in journalism with a specialization in Broadcast. That first semester I familiarized myself with the curriculum while DJing small gigs. Eventually, my class schedule became too chaotic and I was mentally crashing from lack of sleep, so I had to reduce the gigs to weekends only.
A year later, the theater students were putting on their own production of Lin Manuel-Miranda's In The Heights. I was in search of an internship and all the positions I had an interest in were already filled up. The department wasn't looking for any more help, but I still decided to give it a shot. Angela Piva was the person I was directed to contact, so I sent her an email. She agreed to meet with me and I became her intern.
Angela put me to work right away. She first showed me the sound studio, which I wasn't even aware existed on campus! My knowledge was tested on Pro Tools, audio equipment, studio management, and recording techniques. The theater department wanted us to create the sound effects for the production and to run the soundboard. Angela took on another student as an intern, Vanessa, and the three of us became a team. Vanessa and I learned a lot from Angela during our internship with her. After my hours were complete, I continued to learn from Angela every chance I could. She is still my mentor and friend.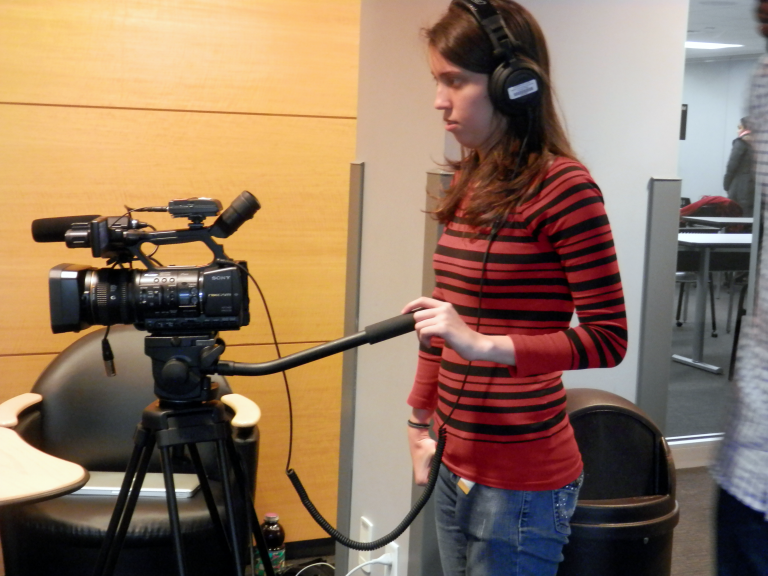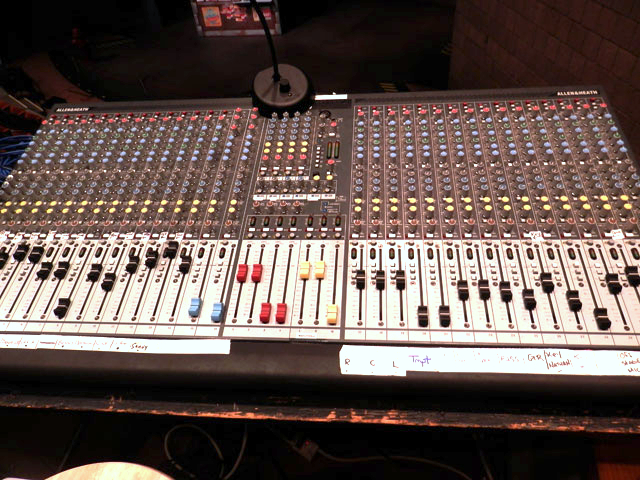 During my last semester at Lehman, I was meeting up with the members of Lehman College Underground Radio. We were in the process of reviving the programming. I was close to launching my own radio show with them and was excited. Unfortunately, Mami was diagnosed with breast cancer and I had to make a choice. Time was devoted to helping Mami fight that monster than the Lehman College Show. I don't regret it and perhaps life will would offer me a new opportunity for a show in the future.
After graduating from Lehman, I got a job in a library and archive where my engineering skills were put to good use. David and I continued to DJ events together including high school proms and house parties. Although the gigs were not as consistent as in the Hostos days, we always gave our all and made sure people had a great time. Thanks to the training I received from Angela, I had begun looking at microphone setups and sound engineers at concerts. For a few years, everything was coming together, until one day it wasn't.
A lot of you have asked me "why don't you post yourself DJing on social media?" Honestly, I just forget. When I play music, I get lost in it and prefer to stay in the moment. Sometimes I capture some media before or after the gig, but that's only when my brain reminds me to do so. The lack of self-promotion is part of what led to the decline of DJ gigs. I own that aspect.
Life also got chaotic after a while. I spent a year working in a publishing house before deciding to leave the toxic corporate work environment. That drained me from my love of DJing and I had to take some time to figure things out. Little did I know that a pandemic was about to force the world to sit down and do the same. COVID-19 had many of us using social media to stay connected with our loved ones. I tried to DJ on Instagram, but the copyright infringement laws got me kicked out after a half hour. DJ D-Nice, Quest Love, and the DJs broadcasting from home on the radio kept my passion for music alive during a time of so much isolation. I was having trouble doing that for myself and had no idea why.
COVID was already taking a huge toll on my mental health, but life wasn't done surprising me yet. In 2020, Papi was diagnosed with prostate cancer. Mami's breast cancer returned in 2021. I made the tough decision to stop DJing to keep my parents safe while supporting them in their cancer battles. I won't go into too many details about that dark time, but music therapy was one of the biggest reasons I got through it. When I needed to take a moment to myself, I put on my headphones and mentally dove into my playlists.
My parents are both thankfully in remission now. While they were in the process of healing themselves, I became broken. I admit I miss DJing. DJing allowed me to connect with people in a way I can never describe. The last gig I did was DJing David's wedding. David and his wife had so much faith in my skills and for that one day, I felt my old self coming back.
While on this journey of self-discovery, I have been indecisive about making my return as a full-time DJ. Part of it is about my views on how the music industry in general has evolved. Social media and music streaming services have changed the way in which audiences consume their favorite songs. Mainstream radio is full many advertisements now and spend less time actually playing music. Most shows are now prerecorded instead of being broadcast live.  Everything is online now.
Yes, I miss it, but being a DJ is not all I want to be known for. There are other things I enjoy like art, writing, and exploring nature. That is why I changed my social media handle to @justrosaelena. My heart is still telling me to follow the music and audio path and time will allow me to see where it leads. So, while I post other fun content, I am going back to basics with sound. I am learning to be kinder to myself. It is okay to start over. This lost DJ needs to find herself again while continuing to navigate life. Perhaps the original version of me has run her course, and it's time for a remix.
Photos: Rosa Elena 
Last Updated: October 17, 2022