BRONX, NY- Hi everyone! Hope you are all doing well. Remember a few weeks ago I wrote a post about the DIY gifts and mentioned a secret project? The secret project was given as holiday gifts to some special people in my life. People who have had my back and showed me support when I needed it most. As a thank you, I decided to make them MyIntent bracelets to add inspiration to their goals.
I started out this project by ordering a MyIntent makers kit. The company created by Chris Pan has a mission: "MyIntent Project is a catalyst for meaningful conversations and positive action." Tokens are stamped with a word that means something to the individual who wears it. Finding the perfect word takes time. The makers kit includes a hammer, stamping base, practice tokens, stamps, question cards, a small tote bag, and bracelets.
While waiting for the makers kit to arrive, I texted my friends and asked them a simple question: "If you can choose one word to motivate you throughout the day, what would it be and why?" To avoid my friends from getting suspicious, I disguised the question as if it were a social project for the blog. I got a variety of answers and loved them all. Once the makers kit came in, I set up shop and got to work stamping their words on the bracelets.
As I banged away on the tokens, I kept the intentions in mind.  Stamping the bracelets was harder than expected. The practice tokens were a mess. I did the best I could keeping the letters as straight as possible. I also stamped a new one for myself. When the bracelets were complete, I placed each one in a DIY box along with a printout of the intention. The boxes got put into paper bags. It was like looking at a rainbow.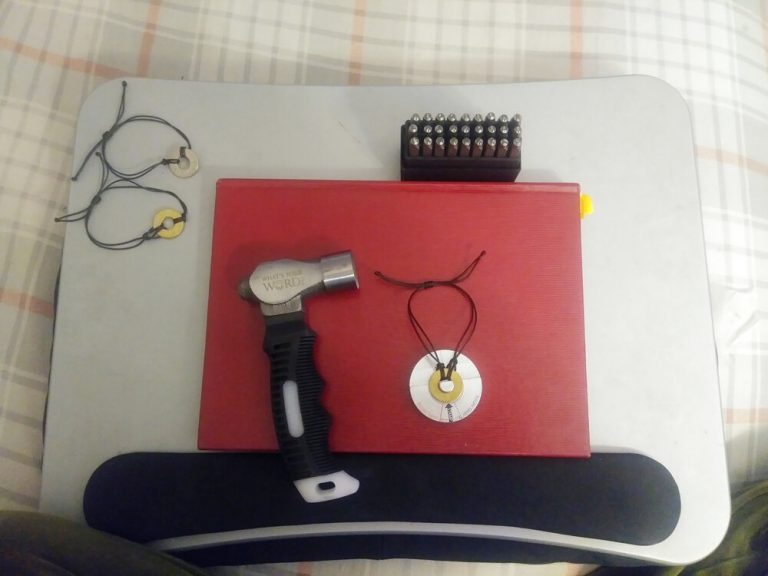 Fast forward to a few weeks later, and everyone received their gifts. The gratitude I received from my friends was heartwarming. All agreed that I could share their word and intentions with others:
I want everyone to think about a word that would motivate you. Is there a goal you are working on? What virtues or values do you want to work on? What obstacles do you want to overcome? I want to give a special thanks to all my friends who chose to participate in this post. You are amazing!
Photos: Rosa Elena Burgos, Jasmine Cordero, David Lightfoot, Gallia Lightfoot, Jonathan Noriega, and Angelica Lopez.
Last Updated: February 22, 2022