BRONX, NY – Earlier this year I posted on social media that I was working on a special art project for one of my best friends. Jeffery, (Jeff for short), was going to move into a new apartment and wanted some art for his walls. I asked him if he wanted me to paint something and he quickly said, "hell yeah!"
"Yo, can you paint some Pokemon for me? I loved that Shiny Charizard you created last time."
"Sure, what do you want?"
"My three favorites: Charizard, Dragonite, and Gengar."
I gave Jeff a big grin. "Challenge accepted."
I knew I had my work cut out for me when Jeff asked me to paint those Pokemon. They are very popular in the franchise. My original idea was to have Charizard, Gengar, and Dragonite share a big canvas together. A few drawings were done in my sketchbook, but nothing felt right. I drew a sketch where the three of them were apart and that's when it hit me!
 Instead of a giant canvas, I would use three separate ones and have each Pokemon shine on its own. Gengar would be the center of attention while Charizard and Dragonite flew around him. Those two can be interchanged. I cut up some newsprint to the size I wanted the canvas to be and sketched out the concept. It came out perfect! I showed my idea to Jeff, and he approved.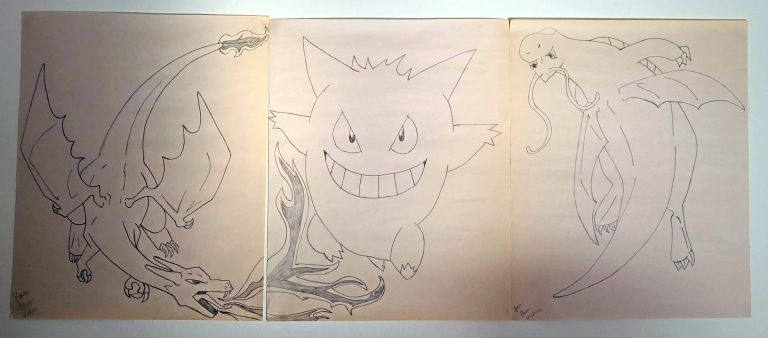 The first eight materials listed are what I always use when painting:
Paint: I love working with Utrecht acrylic paints. Seven colors were used for this project, and I will highlight each one with its corresponding painting.
Circular paint palette
Pocket color wheel
Paint brushes (various sizes)
Paint puck (to clean the brushes)
Newspaper (to cover the art table from my usual mess)
Frida Kahlo reversible apron
Table top easel
The supplies bulleted below I needed for this project:
Transfer paper (blue color)
Tracing paper
Blick Studio Black Canvas 16" x 20"
Detail brushes
Digital glove used for tablets
Thanks to the helpful staff at Blick's Art Materials in Harlem, I discovered transfer paper. Before, I had been using vine charcoal and tracing paper to get my concepts on the canvas. It is still a great method, but transfer paper made this process so much easier. I purchased the blue color so I can see the outline on the black canvas. Blick's was sold out on the larger size for the transfer paper, so I arranged it the best I could on the canvas. I used the tracing paper to trace the concept and then passed the pen over it again on the transfer paper. It went on smoothly.
Now comes the fun and most time-consuming part: painting! For this project, I decided to work with black canvas to have the colors pop out more. No background color was used. I started out with the bright white color to fill in claws, eyes, and Gengar's grin. A lot of mixing was involved to get the shades just right for all three Pokemon. The pocket color wheel was very helpful in this step. It took two passes on the body colors, and I love how vivid the results came out.  
Charizard's colors were very straightforward. Cadmium orange pure was used for his body. Cadmium red hue and bright white were mixed to create the pink shade of the tongue. A small patch of cadmium yellow hue completed the flame at its tail.
Gengar was the easiest one to paint. I used deep black to bring out the bright white color used for that popular smile. The cadmium red hue brought out its menacing glare. Gengar has a specific shade of purple, so I had to blend permanent violet with the white paint first to get a light purple hue. I have another tube of purple paint (dioxazine purple) and added a little of it to the mix until I got the color I wanted.
For Dragonite's body, three colors were used: bright white, yellow ochre, and cadmium orange pure (in that order). The belly only used a mix of yellow ochre and bright white. Medium green filled in the eyes. It was easier to paint this Pokemon upside down ( can be mounted in either direction). 
I had never used detail brushes before these art projects. I needed more practice to get the hang of it, but the brushes did the job on the line work. The digital glove kept the natural oils in my skin off the canvas while I worked. I use it for sketching too. The flames from the original drawings were removed so Dragonite and Charizard could be swapped around. 
A question I get asked on social media a lot is "why don't you record yourself painting your projects?" I am my own worst self-critic and knowing there is a camera on me while I work won't allow me to focus. This is just a hobby I like to share with others, and I want to have fun while doing it. Y'all don't need to see me dancing to the playlist I blast from my speakers while I work anyway :). Instagram and TikTok videos will only contain the before and after.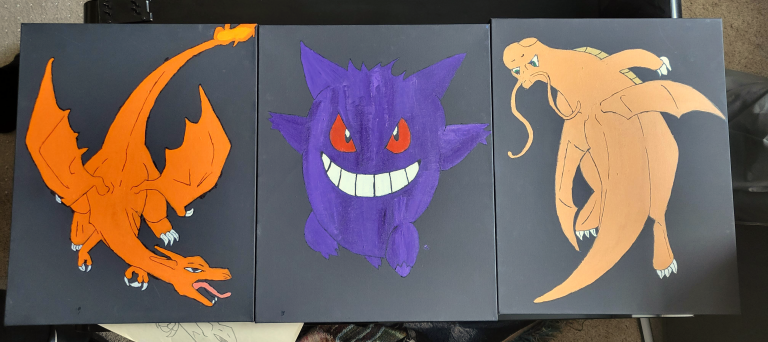 I am happy to report that Jeff loved his paintings and they are now hanging on his living room wall. You can view the other two Pokemon pieces on my artwork page. Do I consider myself a Poke-painter now? Absolutely not. Pokemon characters are just what my friends have requested. How can they not when most of us 90's kids grew up watching Toonami and Kids WB? Shout out to Jeff for challenging me with this one. It was a good time! 
Photos: Rosa Elena  
Last Updated: July 28, 2022