First and foremost, I hope you are all enjoying your summer! Upstate New York has provided me with some amazing places to explore, but this post is not about that. I promise more adventure content will arrive on the blog soon. Today, I want to deep dive into a project that was months in the works. To be real, this shouldn't have taken me as long as it did. Life just kept getting in the way. The point is I now have something new in my closet that I can happily say I made. I am proud to present the Tanjiro Kamado knit sweater!
Wait… Rosa, you knit?
Yes, I do. My mom's friend taught me when I was 14. I tried crocheting, but my brain understood knitting a lot better. All I know are the basic stitches: garter, purl, stockinette, and ribbing. I've made scarves, blankets, arm warmers, headbands, bags, coasters, and placemats. Knitting this sweater was the biggest project I have ever taken on since learning the skill. Best part? It wasn't done in what would be considered a conventional way.
My inspiration to knit this sweater came from two sources. The first was the knitting community on TikTok. Harry Styles had made a pattern by JW Anderson trend. The concept behind it is knitting several small squares and stitching them together to create a patchwork cardigan. To add more simplicity to it, I used a TikTok from @a.lexakari as a guide for my own project.
Part two of the creative influence was Demon Slayer. For those of you unfamiliar with this dope anime, Demon Slayer stars Tanjiro Kamado, a teenager who finds his family murdered by a demon after returning home from selling charcoal. His sister, Nezuko, is the only survivor, but she has sadly turned into a demon. Tanjiro trains to join the Demon Slayer Corps and avenge the death of his family alongside Nezuko, while trying to find a way to cure her. Season 4 is in development. I always loved the color palette of Tanjiro's robe and decided to run with it.
I got to work on sketching how I wanted the project to look. In terms of measurements, I know long-time knitters are going to come at me for this, but I didn't use the gauge system. The project was split into four parts: sleeves, back panels, front panels, and cuffs/ waistband. Then, I was off to the fabric store to buy yarn. Everything else I had at home.
Supplies
Size 8 knitting needles
Carnon Yarnspirations acrylic black yarn (one pound)
Carnon Yarnspirations acrylic kelly green (one pound)
Measuring tape
Darning needle
Fabric scissors
Stitch markers
Row counter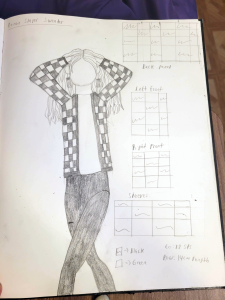 To make things easier, I decided to make strips that alternated between the two colors instead of the separate squares. I cast on (CO) 20 stitches (sts) and knitted 150 rows (50 rows per colored rectangle). Once the strips were complete, I sewed them into panels using the darning needle and the assistance of stitch markers.  My improv plan was coming together beautifully!
Before knitting the wrist cuffs, waistband, and edges for the front of the sweater, I tested out how the panels would look on me. I already figured out the sleeves were going to be big on me, but that was fine considering I get cold easily when the temperatures turn brisk and have a habit of hiding my hands in them for warmth. Back and front panels seemed good to go as well. I kept my Discord group updated and posted the pictures on the server.  
Next step was knitting the final pieces of the sweater puzzle. Each section had different measurements, so the pattern went as follows:
Sleeves                                                                               Front Panel (Bottom)
CO: 6 sts                                                                              CO: 6 sts
Rows: 115                                                                            Rows: 75
Back Panel                                                                         Front Panel (Sides)
CO: 6 sts                                                                              CO: 6 sts
Rows: 200                                                                            Rows: 215
Once those pieces were complete, I sewed them onto their respective places.
The final step was the most nerve-wracking for me: sewing everything together. After making so much progress, I just wasn't sure if it was going to look good in the end. I am my own worst critic and one of the things I have been trying to improve when it comes to my mental health is to be kinder to myself. Referencing my creative sources and the sketch, I said, "not today mental monsters" and went for the finish line.
The sweater came out amazing! I was happy to see that the overall fit was comfortable despite the sleeves needing to be folded over so they wouldn't hang over my hands. The sweater goes great with the Hanafuda earrings.
Having a creative piece that I made myself hanging in my closet makes me happy. I really can't believe I pulled this project off considering I winged most of it. I might wear the sweater for Mid-Hudson Comic Con next month. What are your thoughts on this project? I look forward to reading your comments.
Photos: Rosa Elena
Last Updated: August 31, 2023