BOOTH THEATER, NEW YORK, NY- Nine years ago, I was introduced to Freestyle Love Supreme while I was a student at Hostos Community College. The group was touring through different college campuses spreading their artistic lyricism and positive energy.  Lin-Man (Lin-Manuel Miranda), C-Jack (Christopher Jackson), Two-Touch (Anthony Veneziale), and Shockwave (Chris Sullivan) were some of the members present at the Hostos Show. It was such a fun experience. Wednesday night, I got to see Freestyle Love Supreme again, only this time they were on Broadway.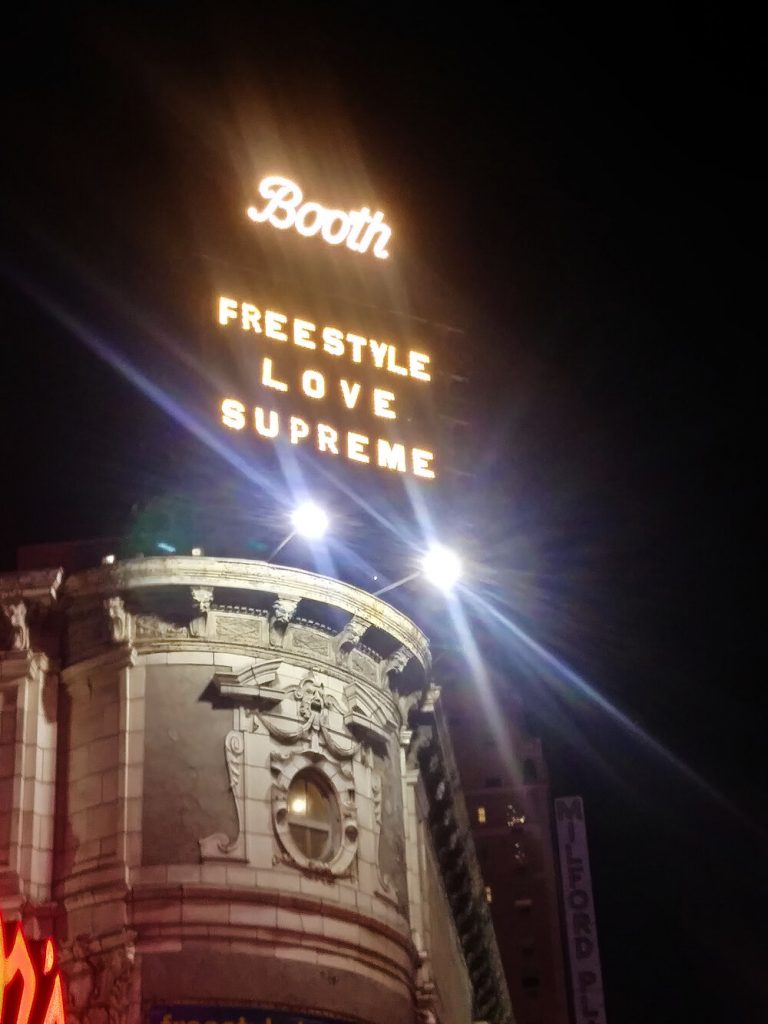 Freestyle Love Supreme is "a stage show where MCs, musicians and beatboxers take the audience on a completely improvised musical ride all based off of the audience suggestions" (Playbill.com). The show begins with the cast performing a mic-check. Veteran members Two-Touch and Shockwave were joined by UTK the INC. (Utkarsh Ambudkar), Young Nees (Aneesa Folds), Jelly Donut (Andrew Bancroft), and Kaiser Roze (Kaila Mullady).  Musicians Arthur Lewis and Bill Sherman added background music to the different acts. The main cast member for Freestyle Love Supreme is of course, the audience.
Every show is different because the audience provides the words the cast members freestyle from. Two-Touch asked the crowd a series of questions and the responses varied. Some of the words like "psychedelic drugs" provided a comedic aspect to the performance, while others such as "housing segregation" added historical elements. Shockwave and Kaiser Roze blew people away with their beatboxing talent. Young Nees added her beautiful vocals to each act. It is everything a word geek could wish for rolled into one dope experience.
One of the cool things about the show is that your cell phone gets sealed into a pouch. This guarantees no distractions for both the cast members and the audience. No photography or recording is allowed, per Broadway rules. You are also asked to suggest a word using a sharpie and index cards provided by the theater staff. The cards go into a bucket that cast can use for later. A quick note: not all the words will be used, so yours might prove lucky. Be as creative as you want with it! There is a moment in the show where Two-Touch will ask someone in the audience to volunteer and tell the cast about their day. If that volunteer ends up being you, prepare to have a freestyle of your life acted out on stage.
I highly recommend going to see Freestyle Love Supreme, especially if you love Hip-Hop improvisation. This is a show where anything can happen and that is the real beauty of it.
Photos: Rosa Elena Burgos 
Last Updated: January 13, 2022