KINGS THEATER, BROOKYLN, NY – As brisk temperatures froze the neighborhood of Flatbush, the Kings Theater was warming up for a big event. Strangers got their tickets scanned, bought drinks at the bar, and got comfortable in their seats inside the cozy venue. Everyone had come to spend a few hours of their evening not to be entertained by a musician or comedian—but by a poet. Her name: Rupi Kaur.
Before deep diving into the details of the show, allow me to tell you about the Kings Theater. It's one of the most beautiful venues I have ever seen. The theater was originally built for cinema and live performances in 1929. Back then, it was known as the Loew's Kings Theater. In 2015, the venue was restored. I was mesmerized by the ornate interior design, which reminded me of the United Palace in Washington Heights. The seats are arranged to give you a magnificent view from any area. Warm lighting and vintage carpeting gave the ambiance that you were in the perfect place for a good time.  
The lights dimmed and the audience went ecstatic. One of Rupi's friends got the crowd excited before introducing the first opening poet: Parker Arrington. She shined performed her spoken word piece "Pretty Like Freedom." Following Parker, came Russian, who represented The Bronx. Russian involved the audience in a call-and-response while reciting his poem. Both Parker and Russian admitted it was their first time sharing their words in front of a large audience. Everyone applauded them in support and gratitude. A few minutes later the red curtain rose, and the star of the show made her grand entrance. 
Rupi wore a gorgeous red outfit which she happily pointed out to the audience. She made everyone feel welcome and asked how we were doing. Rupi talked about her adventures while on tour and asked to be showered with applause and compliments throughout the show (but no snapping). I loved the energy and candor she brought to the stage. It was as if she was inviting us all into her living room for a cup of tea. 
For those of you not familiar with this lovely human, Rupi Kaur is a best-selling poet, artist, and performer from Canada. All her poetry is written in the style of Gurmukhi script, which originates from her Punjabi heritage. Her first collection, Milk and Honey, was published in 2014. Since then, she has released three more books, including her most recent Healing Through Words. Two boxed sets of writing prompts are also available. Rupi Kaur impacted my view on poetry, and I was excited to see her perform live.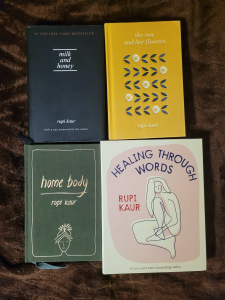 Rupi asked the crowd "how many of you have never been to one of my shows before and have no idea what to expect?" Many hands, including my own shot up. "Oh, wow! And you still chose to show up? Thanks so much." Her charming sense of humor was received with cheers and laughter. She continued to engage with her fans in between poetry performances. Fan favorites like "friendship nostalgia", "depression doesn't knock", and "productivity anxiety" were accompanied by gorgeous visuals in the background. She contributed her personal experiences about depression, anxiety, dating, gaslighting, toxic friendships, and more. Rupi also talked about the protests currently taking place in Iran and the refugee crisis.  
Before exiting off the stage, Rupi asked for the lights to be turned on so she could have a clear view of everyone for a photo. I had never experienced a show like hers before and had the best time. Next time she is in your city, I highly recommend spending the evening with her. You will feel like you are conversing with an old friend. 
Photos and videos: Rosa Elena
Last Updated: December 21, 2022